Nicholas J Trimble
I recently read in the Bible that one should not celebrate when you are financially successful or be sad when you suffer financial loss for all of it will be washed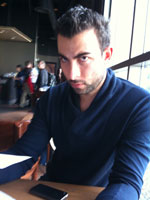 away, which means it will all be meaningless. That said, I can't help but to reflect on the massive financial losses I have incurred. More specifically, I believe I was defrauded by Nicholas James Trimble (Nick Trimble). When Nick approached me he came across as a highly intelligent and ambitious young man. His dream was to build a billion dollar fund. He would accomplish this with his team of programmers based in Utah who had developed a software system called the Gladiator. It was explained to me that the Gladiator was a system developed to trade ten pairs of foreign currencies. The brain-child behind the system was a brilliant individual that once worked for NASA. The system was said to consistently generate at least a 3% return per month and that it was currently successfully trading six million dollars. Sound good?
Well, unfortunately the entire story was fabricated by Nicholas James Trimble in an effort to sell $300,000 worth of licenses in a system he did not own or develop. In fact, Nicholas simply created a company called Capstone FX and great story. The fact was that someone else owned the system. A system that was not worth the paper I'm writing on. In fact, I had the distinct privilege of watching this system lose four hundred and fifty eight thousand dollars and twenty nine cents in a very short time period.
During the process of losses Nicholas Trimble continued to reassure investors that we just needed to have patience. He said that we would learn to love draw-downs as that is when the system really makes money.
In the meantime, Nicholas Trimble was living the good life by leasing a high-end condominium downtown. He then got married to Jessica Trimble and threw a fairly spectacular wedding and honeymoon. In hindsight, I realize that I helped fund his lavish lifestyle and wedding celebration.
What would possess someone to formulate lies in an effort to defraud someone out of hundreds of thousands of dollars. Well, I suppose Nick Trimble thought he could get away with it - and perhaps he did. Nick Trimble is currently a free man. It is also possible that he is actively working to con his next victim.
Well, I'll do the best I can to get this story out there. My goal is to help any unsuspecting investor who just takes one second to search online for Nick's name to find one of my stories. Please contact Mike at (303) 408-2702 if you have any questions or concerns regarding the content of this story.
Update: I was just made aware that on November 8, 2011, a civil suit was commenced between the U.S. Commodity Futures Trading Commission and Nicholas Trimble. On this date, all of Nicholas Trimble's assets were frozen. The civil action number is 11-cv-02887-PAB. This case was filed in the United States District Court for the District of Colorado.